Since character 5 and 6 has a quite similar look to their costumes, I will make one pattern as my base and then alter the details to fit the different characteristics in the different costumes.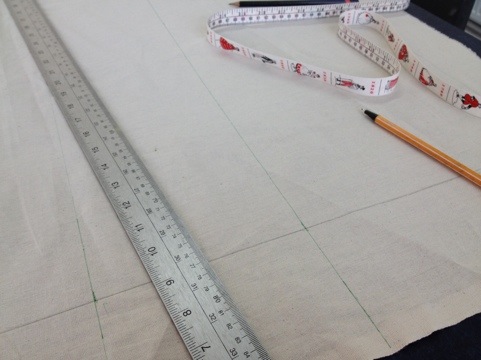 To create the pattern I use draping technique, which works as if you shape the pattern 3 dimensionally on a mannequin in the size of your model.
To do this you need calico in a a similar heaviness to the fabric you using. Calico is a untreated cheap cotton fabric that costs about £3 a meter, which is good since the fabric will go to waste.
Mark the bias cut 20 cm from the edge of the fabric, and the mid front and back 10 cm from the edge. Use a different coloured pen to mark the top, breast and waist line.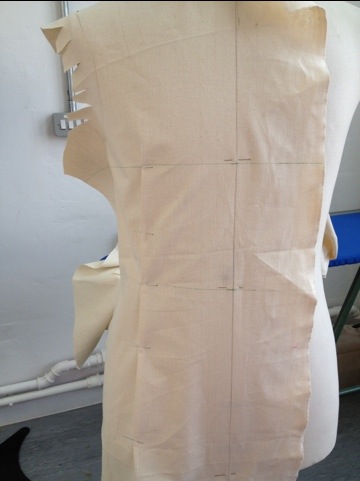 Then attach the fabric neatly to the mannequin, placing the mid front line in the middle of the front on the mannequin, which is preferably marked with some ribbon in advance. Work your way around, folding the fabric into preferred cuts. Do the same in the back and let the two parts meet in the side.
Mark all of the folded cut marks by making small dots on both sides of the fold, which will give a neat and clear mark when flat.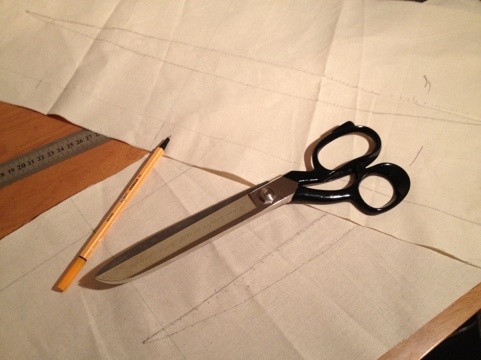 Once this is done, take the calico off the mannequin and iron it, cut of unnecessary fabric and transfer the draped pattern to pattern paper.
To transfer all marks I use a yellow transfer paper, which gives an exact copy of the marks on the calico to the paper, and then simply draw on the marks with a pencil.
When the pattern for the coat was done, I made a flat pattern cut to the trousers, since there is no point draping them.
Then it is time to make the toile.