Once the mask is done it is time to prepare the wig, I have bought a pure white long acrylic wig to use as my base. I ordered it from ebay, directly from China, a really nice wig for only £14 including shipping cost, the only thing that you need to keep in mind is the time of the shipping, so you need to order it well in advance.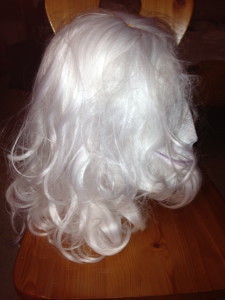 I have attached the wig temporary to the mask, to be able to see the whole character when dressing the wig. It is suppose to be tangled and big, so I backcomb the whole thing, to then style it. It is good to use a lot of hairspray when doing this, since it will make it stay in place much better.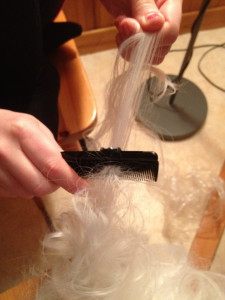 Once it is styled and done it is just to try it on the model and make sure it fits. I discovered that the foam had become far to thick around the eyes so it was hard to apply to the face. To fix this I cut some of the foam off the inside until it fitted the face of my model.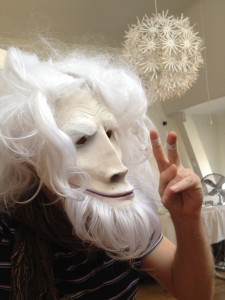 Then it is done foor shooting!