Hi
It has already been five weeks since I arrived here in Belfast for the 4th season of Game of Thrones. I am having a great time here in Belfast and I am very much enjoying work. I have my own department this year and an amazing team to work with. One of the best things are actually our newly built toilets, we are all so very happy about this. Last monday I had lovely Oliver, my new trainee to join me upstairs in my birdsnest I the Painthall.
The flat I am staying in is just amazing and my friends here are really lovely. It is situated just by the river and just 5 minutes from work. Which is great since I am doing long hours and early mornings.
I am checking out Belfast and its nightlife this year and trying to make the most out of my being here, even though I am mostly at work it is nice to feel a bit more like home when you are in a city for long periods of time. I have discovered a lovely gay club called the Kremlin. Great music and great people! I recommend. Had a great dinner at Deanes yesterday with Sylvia who has come to work with us from Iceland (another from north of the wall, I am no longer alone :)..) and my lovely friend Emma!
The Game of Thrones exhibition came to Belfast this week so we got to go and see it. It was nice to see :). I have some costumes on display that has been touring the world. great thing!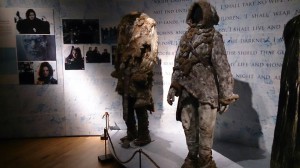 Winter is coming <3